There is a new Jailbreak iOS 7.1 & iOS 7.1.1 but it is only for iPhone 4
and it is a semi-untethered Jailbreak !!!
It works for :
To do it you need :
1. to download
Geeksn0w 2.9
2. to unzip it
3. to download and install
.NET Framework
from Microsoft site
4. to download and install Java Development Kit 32-bit
5. to connect your iPhone 4 to you Windows PC
6. to open Geeksn0w 2.9 as PC Admin
7. to start Jailbreak
8. to choose your iPhone 4 model
9. to put your iPhone 4 in DFU mode and Geeksn0w will start/continue Jailbreak action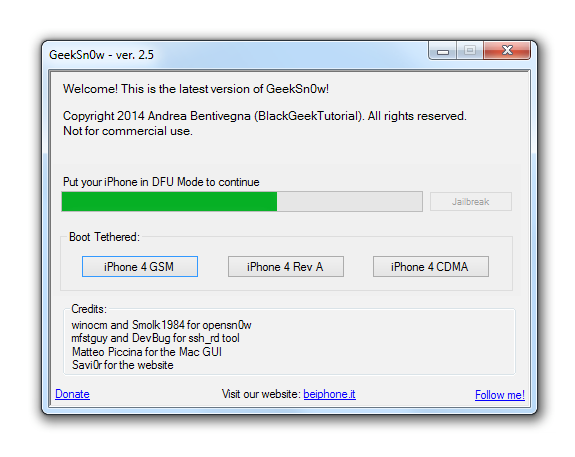 10. after e little time your iPhone will show you this
11. now you must put your iPhone 4 in DFU mode again, after a little time your device will start again,
show you the Apple in middle dark screen and then your screen will become totaly black and white written
things will appear.... let it be and don't touch anything, all is normal...
12. after a little your phone will start and normal unlock screen will appear
13. unlock your phone and you'll see Cydia is on your Springboard...
now your iPhone 4 is semi-tethered jailbroken...
14. start Cydia and go to manage page, click on Sources and Modify
15. add "
http://geekrepo.beiphone.it/
" source and install it !!!
16. Click on "GeekRepo"
17. search and choose "GeekSn0w Semi Untethered" tweak on clicking on it
18. install "GeekSn0w Semi Untethered"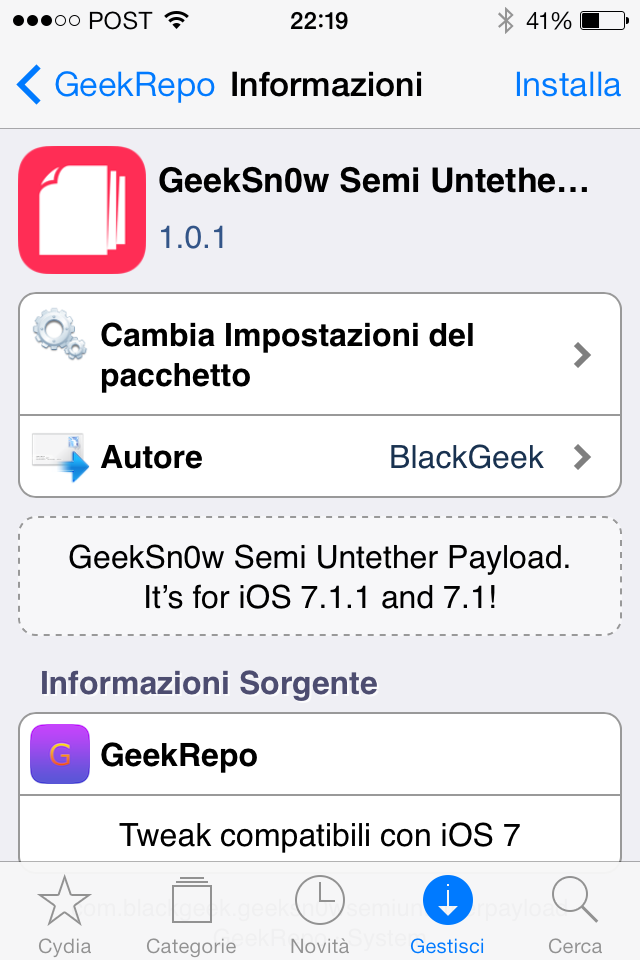 19. Ok, the end !! Your iPhone 4 iOS 7.1 or 7.1.1 is now Semi Untethered Jailbroken !!!